1800 AD
In 1800 the Drainage Act was passed. This led to the straightening of rivers and the draining of wetlands for agriculture. The first detailed census of population took place in 1801.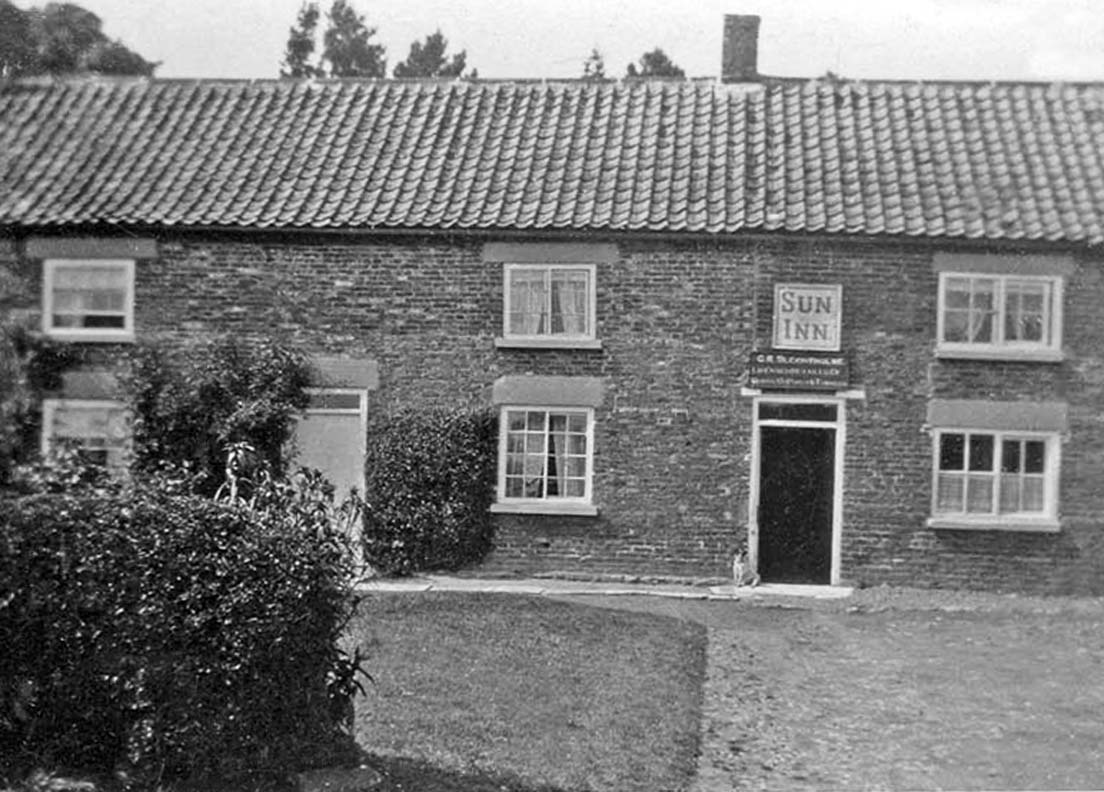 The Sun Inn was built around this time
From 1813 all the baptism, marriage and burial registers were required to be kept in a new standard bound format, by order of act of parliament. This makes them much easier to read. They continued in this format until new regulations in 1992. The occupations in the village were much the same as the previous century. William Brocklebank was a shepherd. Charles Stocks, however, mentioned in 1858, was a sailor.
We have access to tithe records for 1839, including a map made for the survey. It shows a building down the old green lane by the Dickinson's house occupied by a Matt Clarkson. At that time wheat was 7 shillings and a farthing per bushel (7/0¼d), barley 3 shillings and eleven pence ha' penny (3/11½d) and oats 2 shillings and 9 pence (2/9d).
In 1831 a lad called Joseph Smith (1823-1898) came to Bridge farm with his father, a farmer, commissioner of taxes and preacher.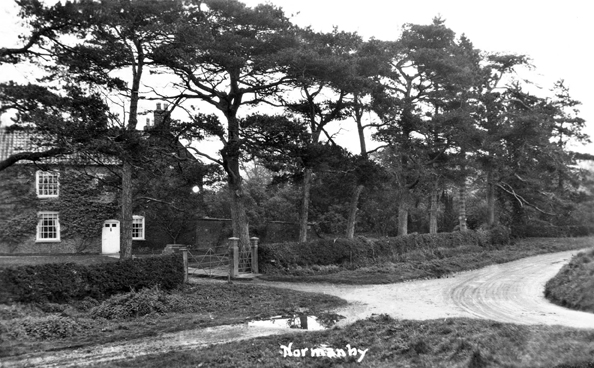 Bridge Farm (House) c.1900
Joseph Smith's father commented that religion in Normanby was 'but little known and practised'. He attended Normanby Day school but was sent home by the schoolmaster after a disagreement on how to spell the word 'develop'! Joseph was in the right but he was sent to Bramley near Leeds. This was a fair journey in those days as there was still no railway. The trip was by coach. At sixteen he returned home and became president of the Sunday school.
A stonemason and dialect poet called John Castillo was repairing Bridge farm and Joseph's father would set him to record 'awd Issac' and other gems while Castillo paced around the kitchen of an evening, dictating. John Castillo was unable to write himself. The verses were later published.
In 1846 Joseph's father placed him on the farm at Riseborough, where he remained for thirty years. Here his own children grew up and enjoyed the spaciousness of the old hall and its elevated position with views of the Wolds and moors. Joseph Smith had a way with words and became a local preacher in 1846. He was popular in the circuit as he was also a farmer. There were about 52 local preachers and 2 ministers in the 'Pickering Plan'.
One address Joseph Smith gave was at Normanby on 21st of September 1849 when cholera was devastating the country. He said that the cholera was 'the voice of the Almighty against the sins of the nation'. At the time farming was in depression which Joseph partly blamed on incautious investments by farmers in the new railway companies. He talked against free trade and cheap foreign imports. His father died in 1849 some time after he was thrown from a gig at Normanby.
In 1861 his brother emigrated to South Africa, leaving Joseph to take over the tenancy of Bridge farm. Including Riseborough, this made 600 acres under his management. In 1869 his eldest son died of gastric fever and was buried in Normanby. The handsome gravestone by the church's east window tells us he was aged 15.
In February 1865 Joseph chaired a meeting to promote the Leeds and North Yorkshire railway. Later, in 1869, when the owner took over Bridge Farm, Joseph Smith moved his family from Riseborough to farm at Huggate in the Wolds. He kept the tenancy of Riseborough, leaving the farm in the care of his faithful servant, Thomas Dodds. By 1872 farming fortunes were back and a farm horse could command a price of £100.
Small pox hit the village in 1872. William Dennis died. In Joseph Smith's memoirs, written by his son, mention is made of the heightening of the River Seven banks in the 1890s.
In1883 Joseph moved to farm at South Holme, near Slingsby. Here he was untiring in his work for the Kirkbymoorside and Pickering circuits, travelling many miles by the sometimes uncomfortable transport of the day. He was buried in Slingsby in 1898.
The Victorian village had its own improvement society and show. The society was founded in 1854. Joseph Smith helped to promote the first Ryedale show which was held in Kirkbymoorside in 1855. The coming of the railway a cart ride away at Sinnington by 1875 must have opened new horizons.
The 1851 Census
The census records are a mine of information on what was happening in the village. There were 177 people recorded.
The families in the village were:
1851 Census

Year-2000

AGAR

HESELTINE

Atkinson

Knight

AINSLEY

HILL

Bell

Lane

ALLISON

HORNBY

Belt

Lund

ATKINSON

HUDDLESTONE

Blythe

Marquis

BENIMAN

HUMBLE

Booth

Marton

BODDY

HUNTON

Brown

McClaren

BOYES

JACKSON

Cairncross

McLean

CHAPMAN

LANCASTER

Camp

Murphy

CLARKSON

LUMLEY

Chambers

Nicoll-Griffith

CLEMMIT

MASSHEDOR

Coote

North

COATES

NEWBY

Crummack

Ordidge

DALE

RAWLING

Davis

Ray

DAVISON

ROBINSON

De Rouffignac

Harrison

Roberts

DENNEY

SCOTT

Dean

Sanders

DINNIS

SEAMER

Dickinson

Shail

DINSLEY

SANDERSON

Dowell

Skilbeck

DODDS

SIMPSON

Dunce

Sleightholme

DOWSON

SKELTON

Frank

Smith

DUFFIELD

SMITH

Hardeman

Sturdy

FLETCHER

STOCKIL

Heaton

Tate

FOSTER

STONEHOUSE

Hine

Wallis

GIBSON

STRICKLAND

Hornby

Walsh

GILL

TAYLOR

Kavanagh

Wood

GOODRICK

THOMPSON

Keeper

Knight`

GREEN

TINDALL

HARLAND

TROWSDALE

HARRISON

WARD

HAWKINS

WAWNE

HELM

WILSON

AGAR

HESELTINE
Four names, Atkinson, Harrison, Hornby and Smith are in both lists. However, only Harrison and Hornby are believed to have village connections with both Censuses.