A History of St Andrew's
Normanby
Click on thumbnails
A history of Normanby records the following incumbents.
Henry of Richmond 1228, Henry of Spaunton 1282, Gilbert of Staipilton 1295, Richard of Bossale 1313, Richard of Bergh 1315, William Moubray 1349.
William Gold 1410, Francis Donnynge 1422, Robert Stephenson 1442, William Hesse 1467-68, William Skelton 1480, Robert Stockall, 1485.
William Baynes 1512-13 (buried at Normanby) (Thomas Flintoff 1513-1546 is also mentioned in some records), Thomas Capelman (buried at Normanby) 1540, Edmund Baynes 1546, however, also mentioned in some records is William Romesdon and Richard Vavasour (with the Manor) 1546, John Wood 1556, William Smyth 1572 (also mentioned is Christopher Hayle 1572-1579), Richard Slater 1579 (also mentioned is Phineas Hodgson 1579-1615 who was chancellor of York from 1615 to 1661), William Willan 1615, Robert Staveley.
The living descended with the Manor until 1617 and perhaps later, although from 1572 presentations was made to others, presumably lessee.
Daniel Bushell 1661, Edward Beaucoke 1661-1724 is also mentioned, Nicholas Grey 1671 (buried at Normanby), Christopher Bowes 1701-2 (buried at Normanby), Richard Hill 1719, John Hill and Richard Hill 1724-1814, Thomas Mason 1724, Thomas Langstaff (buried at Normanby), Richard Brown 1762, Another John Hill 1814-, Arthur Cayley, James Hill BA 1847-1893 (buried at Normanby), Reginald James Hill MA 1894-1897. In 1896 he sold the advowson to John Potter. In 1900 John Potter presented it to Edward Harvey Molineux Jackson.
Another record starts with the visit of the Archbishop of York on Feb 12th 1894 to institute Rev Reginald James Hill, MA Exeter College, Oxford to the Rectory of Normanby. He was already vicar of Salton. Confusingly, he replaced another James Hill BA, who had just died.
On July 15th 1894 the church closed for extensive repairs. It was re-opened on October 26th by the Archbishop of York. The weather was cold and snow fell. There was a very large attendance at the afternoon service with many standing. There were other distinguished clergy present including the Bishop of Trinidad, Lord Falkland and the Earl of Feversham. Despite the weather there was a tea and sports. That year a parish library opened with 150 books. The subscription was a penny a month.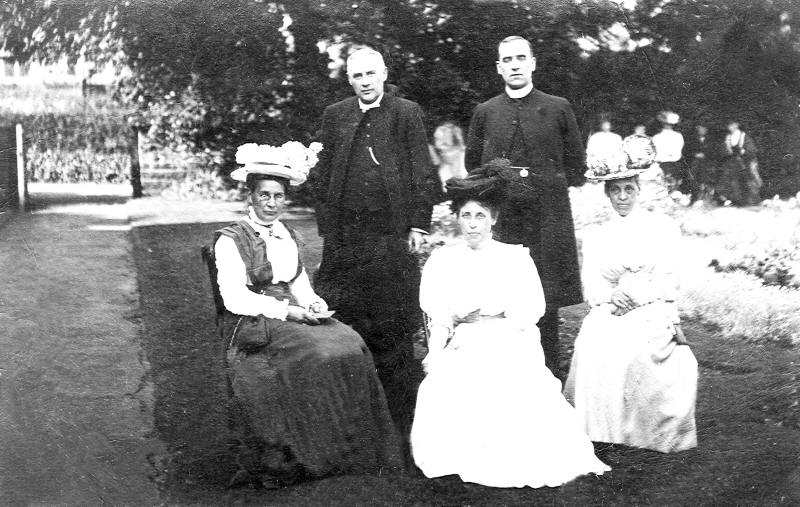 L-R Nancy house keeper became 2nd wife of Rev Edward N M Jackson, Miss Stowell (teacher),
Rev John E N Jackson (son) & wife Kathleen (nee; Peel)
Robert Davison was parish clerk for 34 years. He was buried on 19th January 1863 aged 74. Thomas Henry Foxton became parish clerk and Sexton in 1902 and served many years.
The Churchyard contains over 150 graves with dates ranging from 1780 to the present day.
http://www.genuki.org.uk/big/eng/YKS/NRY/Normanby/index.html
Rectors of Normanby from 1897

Edward Harley Molineux Jackson.1897-1926,

Ronald Richard Lettall 1988,

John Edward Norman Jackson 1927, (son of above)

Gordon Frederick Sherwood 1990,

Marmaduke Frederick Thomas Swalwell 1932,

Denis Samways 1994,

Anthony Simpson Harnby 1952,

Jonathan Cooper 2003,

Cecil Gordon Thompson 1958 (buried at Normanby),

Stephen R Gamble 2016,

Douglas Arthur Baker 1980,

Revd. Capt Robert G Barker

Nicholas Newman Jones 1983,
https://www.achurchnearyou.com/church/19314/