BUCHER, Sir (Francis Robert) Roy (1895-1980), General K.B.E., C.B., M.C., D.L.
Service biography:
World War I 1914-1918;
Commissioned 15th August 1914, placed on Unattached List for Indian Army. Attached 4th Bn. Cameronians, 25th August 1914, in UK until 29th April 1915. Attached 1st Bn. Cameronians, 30th April 1915, in France until 7th November 1915. Joined 55th Coke's Rifles Indian Army, 8th November 1915 boarded ship for India. Transferred to 31st Duke of Connaught's Own Lancers 11th February 1916.
2nd Lt, (on Commissioning), 15th August 1914, Substantive. Lt, 1st April 1915, Temporary. 2nd Lt, - 8th November 1915, on joining Indian Army Unit. Lt, 15th November 1916, Substantive. Capt, 23rd May 1917, Acting, Substantive 15th August 1918.
After the War he served in Afghanistan and Waziristan, for which he was awarded a Military Cross (M.C.) on 1st January 1920.
(31st Duke of Connaught's Own Lancers (D.C.O.) Lancers amalgamated with 32nd Lancers, in 1923, to form, (initially), 13th (D.C.O.) Bombay Lancers, becoming 13th Duke of Connaught's Own Lancers in 1927.)
| | |
| --- | --- |
| 13th Duke of Connaught's Own Lancers | Cameronians (Scottish Rifles) |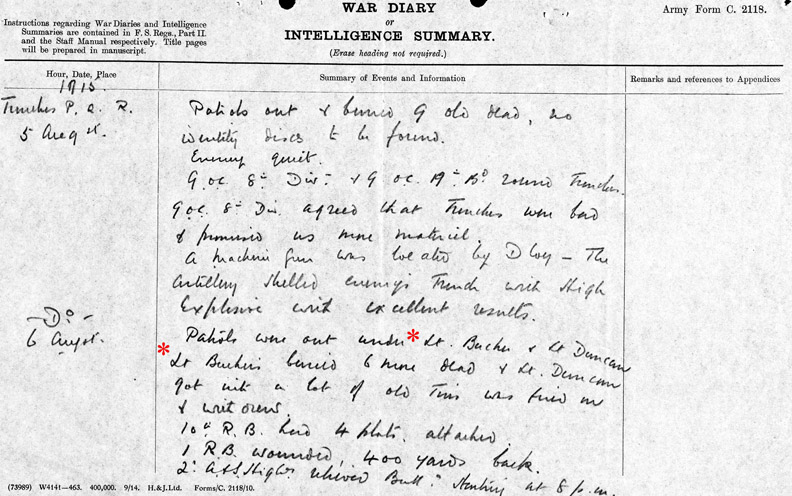 1st Battalion Cameronians (Scottish Rifles) War Dairy 5 August 1915 (Lt Bucher on patrol)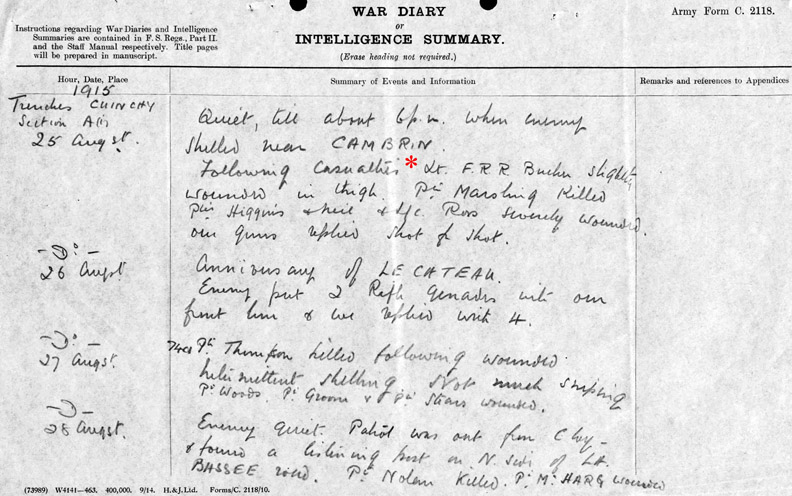 1st Battalion Cameronians (Scottish Rifles) War Dairy 25 August 1915 (Lt F R R Bucher wounded)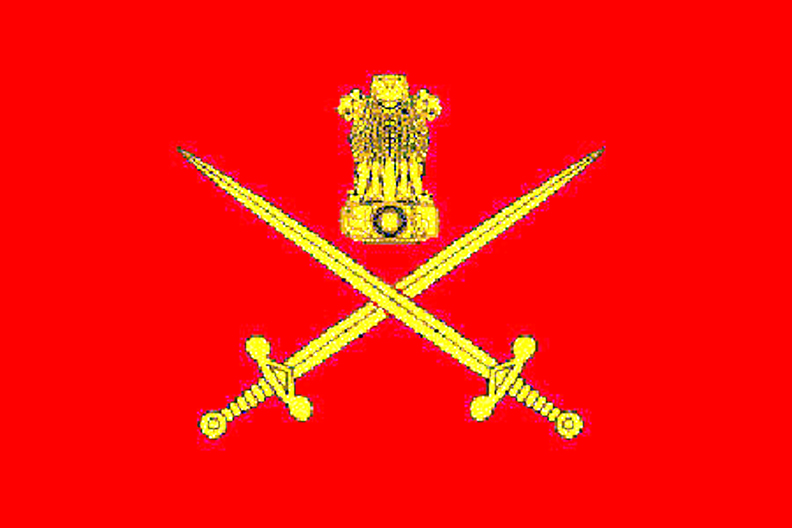 Military Staff College, Camberley, England, 1st Jan 1926-21st Jan 1928:
Served as General Staff Officer, grade 2 (GSO 11), and Brigade Major, 4th Cavalry Bgde, Deccan District, 7 April 1929 to 31 May 1931. D.A.A.G & acting A.A.G 1 June 1931 to 14 December 1932. 1932 to 1939, served as a Squadron Officer, Squadron Commander, 2nd-in-Command and acting Commandant 13th D.C.O. Lancers and the last Commandant of "Sam Browne's Cavalry" before becoming Indian Cavalry Training Centre.
February 1940 London Gazette Lt. Col.: Commandant, ACTC, Lucknow 1940: Assistant Adjutant General, General Headquarters 1941: Assistant Quartermaster General, Iraq 1941: in charge of Administration, Southern Command, India 1942-1945: January 1945 London Gazette Major General & O.B.E.: General Officer Commanding Bengal and Assam Area, India 1946: General Officer Commanding-in-Chief, Eastern Command, India 1946-1947: Chief of Staff, Army Headquarters, India 1947: June 1948 London Gazette; To be an Ordinary Knight Commander of the Military Division of the said Most Excellent Order: Lieutenant-General (temporary) Francis Robert Roy BUCHER, C.B., O.B.E., M.C., Special List (ex-Indian Army). Commander-in-Chief and Chief of General Staff, Army of India 1948-1949: Indian Ministry of Defence 1949: October 1949 London Gazette, Maj.-Gen. Sir F. R. Roy BUCHER, K.B.E., C.B., M.C. (16708), Special List (ex-Indian Army) retired, is granted the honorary rank of General.
Filed papers of A. F. Louis (Francis Albert Victor Nicholas) Mountbatten, 1st Earl Mountbatten of Burma, include correspondence with General Sir Francis Robert Roy Bucher and his daughter relating to Hyderabad, India 1948.
| | |
| --- | --- |
| Major General F.F.R. Bucher (1945) | World War 1 - Medal Index Card |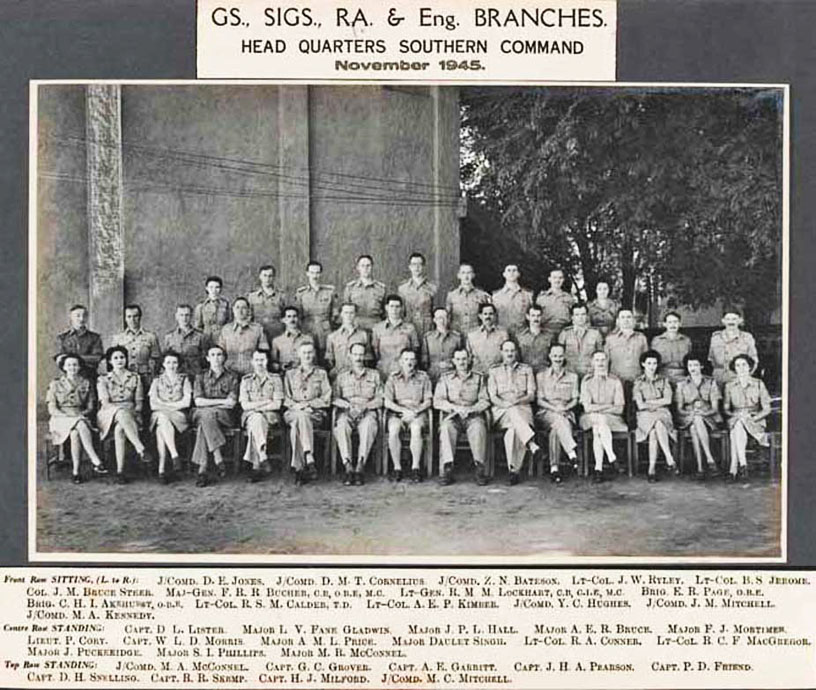 Pandit Jawaharlal Nehru whose family was originally from Kashmir, was educated at Harrow and Trinity College Cambridge and studied Law at the Inner Temple in London. Returning to India in 1912 he married Kamala and their daughter Indira was born in 1919. He was influenced by Mohandas Gandhi and was repeatedly imprisoned by the British for civil disobedience, he was Gandhi's natural successor and played a central role over India's independence and became its first Prime Minister which he held until his death in 1964.
(He implemented moderate socialist economic reforms and committed India to a policy of industrialisation. Chandra Prakash, 1985: 64).
In August 1947, India and Pakistan separated from the British Empire, and this was met with violence and turmoil on both sides. The Indo-Pak war of 1947- 48 was unique in modem military history because it is the only war fought by two modem armies, which were both commanded by British generals. The commander-in-chief (C-in-C) of the Indian army was General Sir Roy Bucher, and his Pakistani counterpart was General Douglas Gracey. All three services in India and Pakistan were commanded by British officers.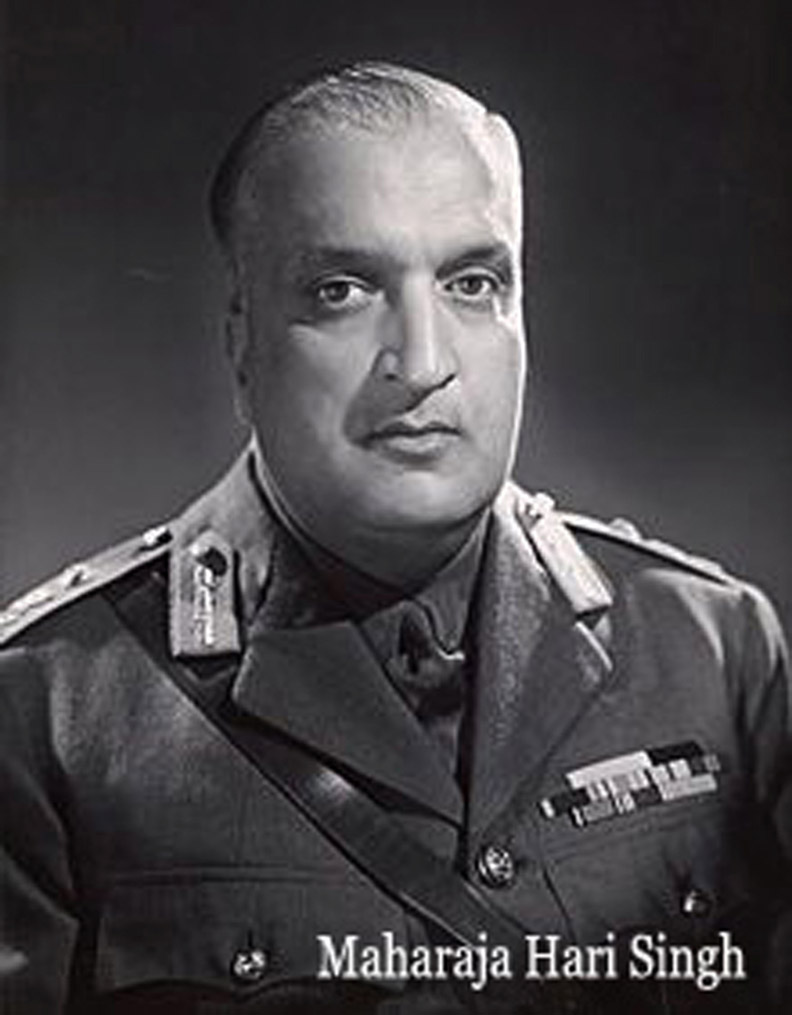 My dear Lord Mountbatten,
I have to inform your Excellency that a grave emergency has arisen in my State and request immediate assistance of your Government. As your Excellency is aware the State of Jammu and Kashmir has not acceded to the Dominion of India or to Pakistan. If my State has to be saved immediate assistance must be available at Srinagar. Mr. Vengalil Krishnan Krishna Menon is fully aware of the situation and he will explain to you, if further explanation is needed.
The Palace, Jammu, our sincerely,
Hari Singh Maharajadhiraj of Jammu and Kashmir State.
26th October, 1947
The death of Mohandas Karamchand Gandhi

(Mahatma):

Four thousand soldiers, a thousand airmen, a thousand policemen and a hundred sailors, in varied and vari-coloured uniforms and head-dress, marched before and after the bier. Prominent among them were mounted lancers bearing aloft red and white pennants — the body-guard of Governor-General Lord Mountbatten. Armoured cars, police and soldiers were present to maintain order.

In charge of the death parade was Major-General Roy Bucher, an Englishman chosen by the Indian government to be the first commander-in-chief of its army.

But by 1948, Nehru had come around to the conclusion that this was not an immediately feasible proposition. The C-in-C, General Bucher, advised him that militarily it was not possible to establish control over the entire territory of Jammu & Kashmir, with the British also supporting Pakistan. Pakistan suspected the Maharaja wanted to accede to India and tried to pre-empt his decision by forcibly seizing the state.
A cabinet meeting was organised for September 12th to take a final decision. Among those who attended were Prime Minister Nehru, Home Minister Haribhai M Patel, Defence Minister Baldev Singh, Gopalswamy Iyengar, General Bucher, Lt. Gen. (later first C-in-C, & Field Marshal Indian Army) K M Cariappa and Air Marshal Sir Thomas W. Elmhirst (C-in-C, IAF).
As the decision was being finalised, Gen. Bucher stood up and said, "Gentlemen, you have taken a decision in a difficult matter. I must give you my warning. We are also committed in Kashmir. We cannot say how long it will take so we will end up having two operations on our hands. This is not advisable, so as your C-in-C, I ask you not to start the operations." He further offered his resignation if his advice was not heeded. There was a silence while a distressed and worried Nehru looked around. Patel replied, "You may resign General Bucher, but the police action will start tomorrow." An angry General Bucher stormed out, and coincidentally the next few days saw a rise in the Kashmir operations.
India's own first C-in-C in January 1949 was General Cariappa. One of the things that greatly concerned the British at the closing stage of this war was that General Cariappa was taking initiatives that General Sir Roy Bucher could not control. The British did not want an Indo-Pak war. They were conscious that hostilities would break out and had issued secret orders to all British officers 'to stand down' in the event of a war. These officers were told they could resign their commission or function in an advisory capacity. The British clearly did not want the whole of Jammu & Kashmir to go to India. There was a widespread feeling in London that if India was in control of areas contiguous to Pakistan, the latter would not survive.

The top-secret cables exchanged between the British missions in India and Pakistan, and Whitehall, tells the true story. The C-in-C was receiving instructions from the British High Commission in New Delhi. Nehru had decided to strike at the bases of the raiders in Pakistan but Mountbatten opposed this.

Was the Indian Prime Minister Nehru manipulated by the British and made a scapegoat for the timing of the 1st January 1949 ceasefire when India was in an advantageous position. It has been implied that General Roy Bucher kept the Kashmir war within "reasonable bounds" but reasonable for whom? It is realistically clear that General Roy Bucher "controlled" the progress of the Kashmir war ensured that India did not succeed in driving Pakistan out of Kashmir fully.

General Cariappa
A policy decision may have been taken by the British Government in the early days of the war. If the "credit" for the cease fire should go to General Roy Bucher does this indicate that Bucher made the decision and not Nehru when India was in an advantageous position?
Nehru who with his self-defeating kind of idealism was no match for the persuasions of the British who were past masters of the art. Was General Roy Bucher looking after, India or Pakistan interests or both? He was politically shrewd, in the way he prevented the "military situation from boiling over" in India's favour. He was politically shrewder than the idealistic Pandit Nehru, whom he seems to have manipulated quite skilfully. It appears that Nehru neither understood nor was he interested in military affairs.
The fact that Nehru asked British General Roy Bucher to stay on as C-in-C of the Indian Army after Independence shows his uncertain mind. He may not have believed or was skilfully made not to believe that there was not any Indian officer capable of being the C-in-C at that point of time. His dependence on Bucher made it easier for the latter to present the Kashmir war situation in a manner that suited the British.
It was thus fairly easy for Bucher to underplay India's victory's and overplay the calamity's knowing Nehru's weakness for appearing as an apostle of peace, like a latter-day Ashoka the Great. Bucher must have dangled the bait for a cease fire and Nehru took it. The first signal to be signed ordering the cease-fire on 1 January 1949 had been signed by Colonel Manekshaw ("one of Bucher's men", India's first & greatest Field Marshal) on behalf of C-in-C India, General Bucher.
General Roy Bucher carried out what appears to be the strategy of his political masters with rare skill and handed over the reins to the first Indian Chief of the Indian Army to General Kodandera Madappa Cariappa ("another of Bucher's men" and later Field Marshal) on the first day of the ceasefire. This was the parting gift the British administered to India.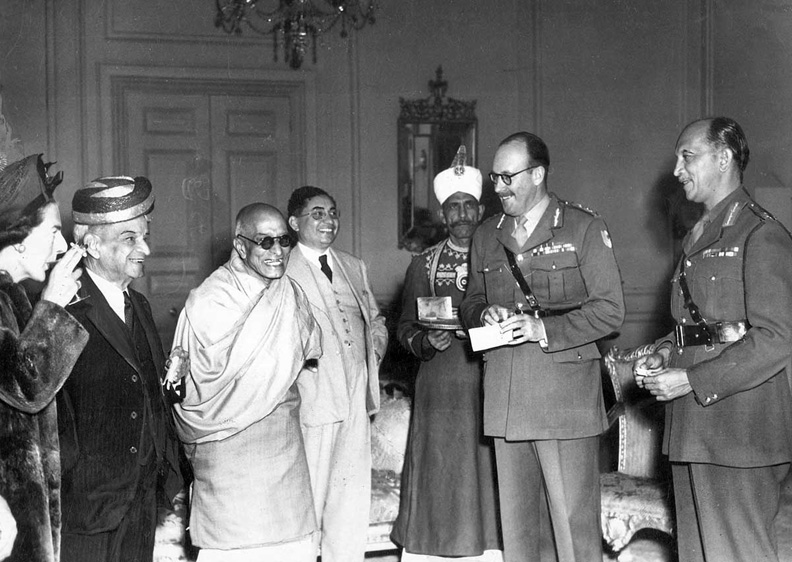 General Sir Roy Bucher (the outgoing C-in-C) and Lady Bucher at Government House, New Delhi, when they lunched
with his Excellency, Shri. C. Rajagopalachari, and the new Commander-in-Chief, General K. M. Cariappa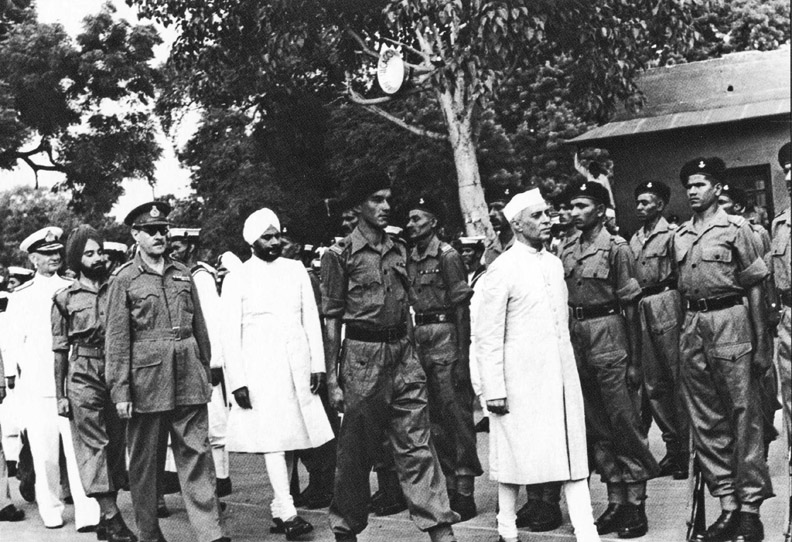 August 1948 Independence Day Bombay (now Mumbai)
R to L Nehru, C.O. Rajputana Rifles, Baldev Singh (turban), Gen Sir Roy Bucher
The confrontation with Pakistan in the 1965 war, a book by Kabul had little to say about Choudhuri and Field Marshal Sam Manekshaw's conduct during the 1965 war, he refers to them in the context of the 1948 Kashmir war, when General Sir Roy Bucher was the commander-in-chief; Choudhuri his Director of Military Operations (D.M.O) and Manekshaw the latter's staff officer. Kaul refers to them as "Bucher's men and both served their master well" in key appointments at army headquarters, running the Kashmir war between them.

In April 1971, as India's Army Chief, Manekshaw refused to be rushed into another war with Pakistan since the time wasn't right. Despite pressure from the Prime Minister Indira Gandhi and her cabinet, he stuck to his guns. The Indian Army launched the assault in December that year and won the war that led to the birth of Bangladesh. The military victory in East Pakistan and the creation of Bangladesh were seen as Sam Manekshaw's success as much as then Prime Minister Indira Gandhi's. He was at the peak of his fame. "The Prime Minister, Indira Gandhi asked him if he was after her job, he is said to have replied; you have a long nose and so do I, but I don't poke my nose into other people's affairs!" he died in 2008.

Field Marshal Sam Manekshaw
Sir Roy Bucher made a visit to India early in 1970, the guest of "one of his men" Field Marshal Manekshaw, in the chief of army staff's house in Delhi for some a time and with government permission. Sir Roy and Lady Bucher adored India, its people, culture and all it stood for.
In 1973, General Sir Michael Carver, Chief of the Imperial General staff of the British Army, invited Field Marshal Sam Manekshaw to visit him in the United Kingdom. When asked for his preference of places to visit, Sam mentioned first that he would like to meet General Sir Roy Bucher, the last C-in-C in India and also visit the 2nd Battalion, Royal Scots. He also visited the Imperial Defence College and several other military establishments in United Kingdom.
Awards: K.B.E.-C.B.-M.C.-Order of Star of Nepal 1st Class;-Order of Polonia Restituta 2nd Class;
Deputy Lieutenant for the North Riding of Yorkshire, Chairman the Royal British Legion. Chairman; Royal Society of St. George, Chairman Anglo-Polish Society and Chairman Transport User's Consultative Committee, Yorkshire.
| | |
| --- | --- |
| FRANCIS ROBERT ROY BUCHER was born 31 August 1895 in North Leith, Edinburgh, and died at Normanby 5 January 1980. The son of David Smith Bucher (1868-died Dublin 1948) (Wine & Spirit Merchant) and Harriet Frederica Paterson (1869-died Malton 1953) (Family-Music Sellers) were married Paisley, Scotland 1894. | |
Father: David Smith Bucher (Service No 9216) joined the 20th Company (Fife & Forfar) Imperial Yeomanry, part of the 6th Bn, in 1899. He served in South Africa during the the Boer War and returned to Scotland in June 1901.
Awarded: Queens South Africa Medal, with 3 clasps, "Cape Colony", "Orange Free State", "Transvaal".
He re-enlisted June/July 1901 with 116th Company, Imperial Yeomanry, and returned to South Africa, until the end of the war. He was discharged in the rank, Corporal.
Awarded: King's South Africa Medal with 2 clasps, "South Africa 1901", and "South Africa 1902".
He re-enlisted voluntarily (over Age) for W.W.1 Army Service Corps (A.S.C) number R4/062810, entered France 3 April 1915 and after the war discharged in he rank of Corporal.
Awarded 1914-15 Star; 1914-20 British War Medal and 1914-19 Victory Medal.
On the 8 January 1919 at the British Consulate, Calais, France; he married secondly Frances Sidney Meredith Gibson she 36, he aged 50 and a contractor for the Base A.S.C. Remounts. Frances Sidney Meredith Gibson was born in Dublin in 1883. She was awarded British War Medal and Mentioned in Dispatches for service to the Y.M.C.A in France. She died in Dublin 13 January 1949.
Grandfather: Francis Bucher (1840-1902) (Glass & Wine merchant) who married in 1867 Grace Webster Smith (1846-1937) daughter of David Smith (Wine merchant) and Mary Ann Moore.
Great Grandfather: George Bucher (1817-1859) (sawyer) and Agnes Anderson they were married in 1839.

| | |
| --- | --- |
| Francis Robert Roy Bucher married first Edith Margaret Reid 08 November 1922 in Paisley Abbey, Renfrew, daughter of Alexander Reid (Dye Merchants) and Margaret Stewart (family-Cloth Merchants). She was born 27 May 1899 in Paisley, Renfrew, and died 04 December 1944 in Bangalore, India. Roy Bucher and Edith Reid had a daughter Elizabeth Margaret she was born 13 November 1927 as was her future husband. | |
Elizabeth Margaret Bucher married Lt. (Evan) Michael (Pearce) Hardy 7 June 1951. He was born 13 November 1927 and served in The Duke of Wellington's Regt. retiring as a Colonel. He was also an international rugby player, capped 3 times for England, at fly-half.
Secondly, Sir Roy Bucher married Maureen Helen Susan Gibson 1 February 1946 in Calcutta, India, daughter of Captain Thomas George Gibson and Mary Creagh. She was born 09 March 1909 in Indore, India, and died December 1978 in Normanby, Yorkshire.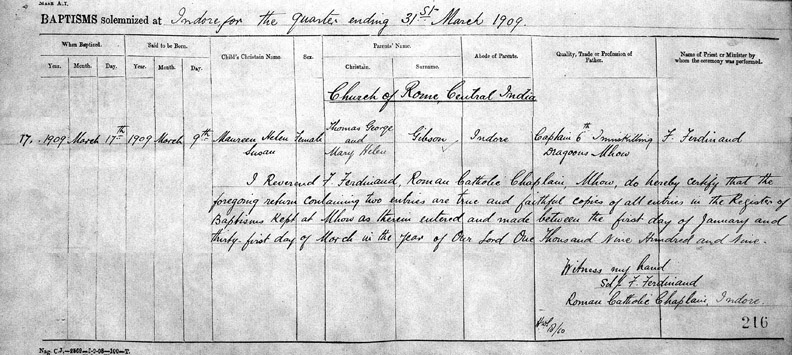 Indian Baptism Maureen Helen Susan Gibson
Captain Thomas George Gibson (1878-1955), married Mary Helen Creagh (1882-1960) daughter of William Philip Creagh (1854-1891) died at sea and Emma Barry (1858-1925), on 5 June 1907 in Tralee, Ireland. Captain Gibson had also served in the Boer War 1899-1902 a 2nd Lieutenant; 6th (Inniskilling) Dragoons and afterwards returned with the regiment to Ireland. Newly married in Tralee, Ireland they moved with the regiment to India where Maureen Helen Susan Gibson (1909-1978); was born at Indore.
Captain Gibson resigns his commission to take over the management, from his father, of the extensive family property portfolio on the 8 September 1909 and returns to England with his family. The following year 1910 he his placed on the Reserve of Officers list. The 1911 census finds the family living with Thomas George's father also a Thomas George (1831-1911) in Lesbury, Northumberland aged 80 a retired prominent solicitor who practiced on Tyneside.
After the death of his father the family moved to Welham Hall, Malton. They had one son and two daughters, the only child named on the 1911 census was Maureen Helen Susan, Captain Gibson held the office of Deputy Lieutenant and a Justice of the Peace.
In the early 1930's Maureen made a number of unaccompanied voyages to Gibraltar probably in a British Red Cross roll. An entry in the London Gazette 15 June, 1945, Miss Maureen Helen Susan Gibson, recently Regional Director, British Red Cross Society, Syria and Lebanon awarded a M.B.E.
It cannot be established when and how Maureen arrived in India, only that in April 1947 she made a voyage on board Steamship P&O Chitral from Bombay to Southampton in the name of Maureen Bucher accompanying the daughter of Francis Robert Roy Bucher.
An entry in the London Gazette 2 January 1950, Most Excellent Order of the British Empire: Maureen Helen Susan, Lady Bucher, M.B.E., President, Indian Forces Welfare Ladies Committee.
23 April 1976 from the U.S.S.R

to Gen. Sir Roy Bucher K.B.E. C.B. M.C.

Letter's written by General Sir Roy to his daughter in the UK as to the situation in Kashmir, are held at the The National Army Museum Chelsea. Ref: 1979-01-87.

Lady Bucher at Normanby House c.1960

Sir Roy chairman British Legion

General Sir Francis Robert Roy Bucher K.B.E., C.B., M.C., D.L:
Died 05 January 1980 in Normanby, North Yorkshire and buried alongside
Lady Bucher in St Andrews Church.
Early in 2006 I was saddened to learn of the Health & Safety issues over the unstable gravestones in Normanby Churchyard a few had been pushed over to reduce the risk. Out of respect for Sir Roy & Lady Bucher (to who he owed so very much), a politically shrewd and high-ranking leader who shaped the history of the British Empire and India, I arranged to have them re-erected as a tribute to them both and India.
St Andrews Church, Normanby 2006

Gravestones 2010

Medals

General Sir Roy Bucher (top 3 rows awards/medals)

David Smith Bucher (father) Boer War & WW1

(4th row left 5 medals & clasps)

David Eric Bucher (brother) Lt. Gordon Highlanders

(4th row right 2 WW1 medals)

Lady Bucher (bottom row O.B.E./WW2/Red Cross medals)

are held at;

National Army Museum

Royal Hospital Road, Chelsea

London, SW3 4HT

" The future depends upon what we do in the present "

Mohandas Karamchand Gandhi (Mahatma)