Fast fading memories of a 1940's evacuee.
Colin Marquis 2007
It was my eighth birthday, September 1st 1939, Germany invaded Poland and two days later Britain declared war on Germany, and the mother wept, Middlesbrough my home town being situated on the river Tees and a centre of heavy industry and chemical works was considered to be at risk and evacuation plans were put in hand. I was evacuated twice.
| | |
| --- | --- |
| | The first time to the village of Amotherby near Malton. |

My mother and young sister were in a cottage close to the Church, I was on the outskirts of the village with a kind couple whose name now escapes me (Mr and Mrs Pinkney?). My only lasting recollection from then is seeing a Hunt Meeting, watching horsemen in red jackets, beautiful horses and hounds and being very impressed by the chase crossing fields.

We did not stay long at Amotherby, Middlesbrough was quiet, the expected air-raids had not happened and the evacuees started to drift home. When the bombing raids on Middlesbrough did start I was evacuated again;

| | |
| --- | --- |
| | This time to the village of Marton near Pickering. |

Colin c.1943
On arrival I was one of several children allocated to (2 or 3 evacuee Mothers) and placed in a cottage on the main street. It was not long before the Mothers decided they would rather endure air-raids than take responsibility for a mob of unruly children----so they packed their cases and went home. Myself and a friend, Howard Hughes were placed with two elderly Ladies in an old cottage at the edge of the village. (Likely to be the Jackson's sisters bf). It was not long before these kind Ladies decided they preferred their previous peaceful life rather than the hectic one of looking after someone else's young rascals.
It was a case of third time lucky, we had the very good fortune to be taken in by Mr. and Mrs. G.W. Tweedie who owned the nearby Riseborough Hall, and treated as if we were their own children, and it was a very happy time.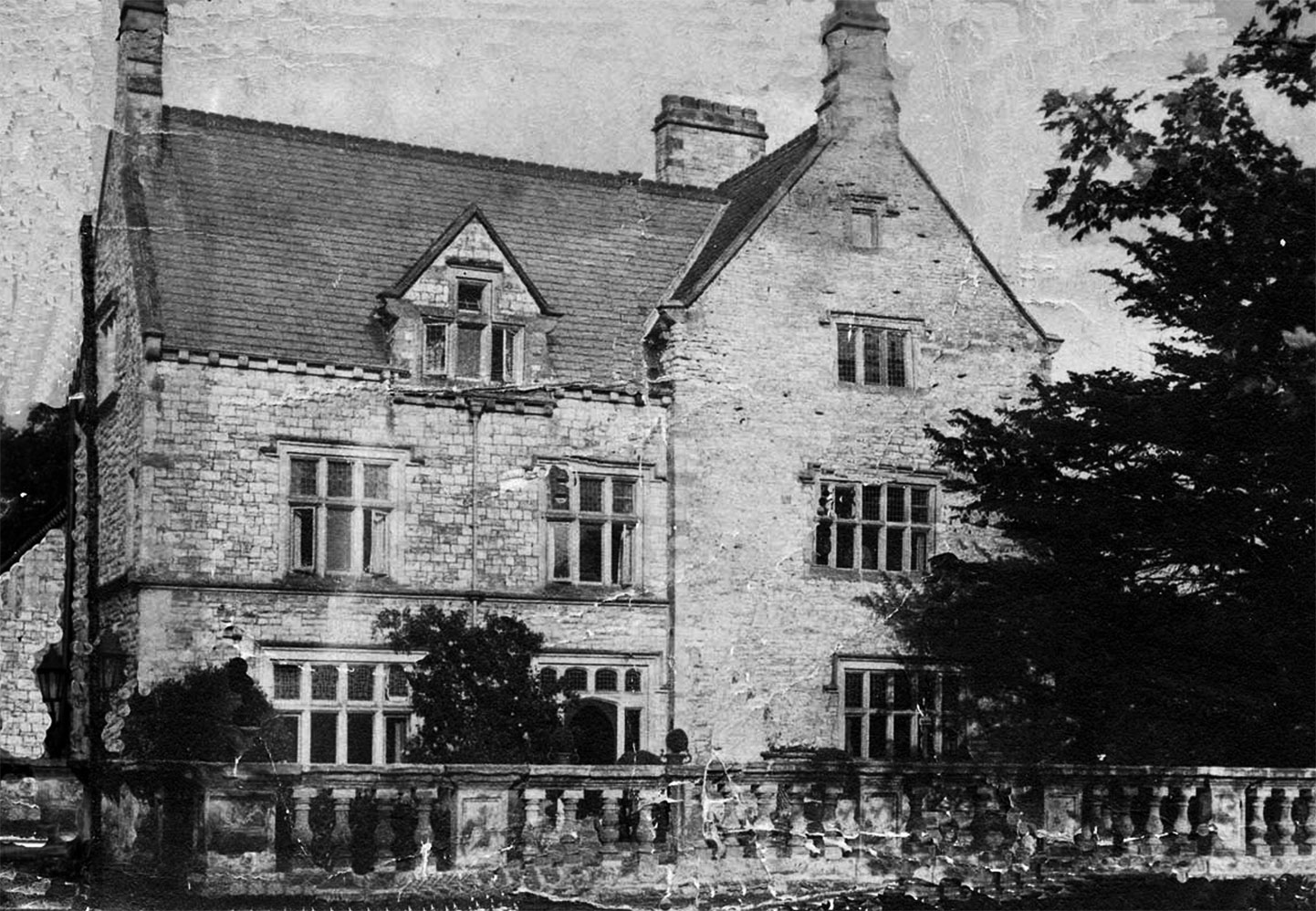 Colin's photograph of the Hall c.1943
The Marton village schoolroom was just that, one main room, the desks placed in 3 sections, Infants, Juniors, and Seniors. With the arrival of evacuees it was a case of more pupils than desks and weather permitting some pupils would use the playground or go on nature walks. One such walk ending in chaos when the leading boys came upon a wasp's nest and threw stones into it. The entire class was stung except for the two leading boys Fred Belt a farmer's son and myself. When the crying children arrive back at school, Mrs Frank (Trevor's mum) quickly appeared with washing blue bags and dabbed blue on the wasp bites there were some very strange and funny sights.
The next morning Fred and I were caned in front of the entire school. Apart from that little episode it was an exciting and happy time. We walked to school, about a mile and a half and often crossed the fields and walked along the riverbank then cutting through Sleightholme farmyard into the village.
There wasn't a shop in the village that I can recall though we could get soft drinks at the rear door of the Spotted Cow ( I believe the Landlord was Mr Brown, his son (Geoffrey?) often played with us).
At the corner of Back Lane you could enter a field and cross diagonally (usually chased by a flock of hissing geese) to an iron small footbridge which led into the village of Normanby which did have a shop that sold sweets. Mrs. Tweedie also called at the Sun Inn or sent us for cigarettes and the occasional small bottle of spirits normally Gin on the "slate" (both commodities being in extremely short supply).
I was bought my first bicycle by the Tweedie's from the garage at Wrelton it was second hand even so it was my pride and joy. We often cycled past Gallows Head to see the train pass under the bridge. I think only two trains a day. On hot days we would swim at Sinnington Mill.
Fred Belt sold me my first pets, two rabbits, which alas a cat or fox killed. A Home Guard post was set up at the Hall and I recall a national alert and taking tea and sandwiches out to the men who had chosen Orchard Hill for their observation post.
One night a bomber taking off from a nearby airfield developed an engine problem and was forced to jettison a string of bombs (unprimed) over Riseborough, straddling the Hall. I have a photograph of the Bomb Disposal / Recovery Team together with Mr. Tweedie and myself proudly displaying the first bomb excavated.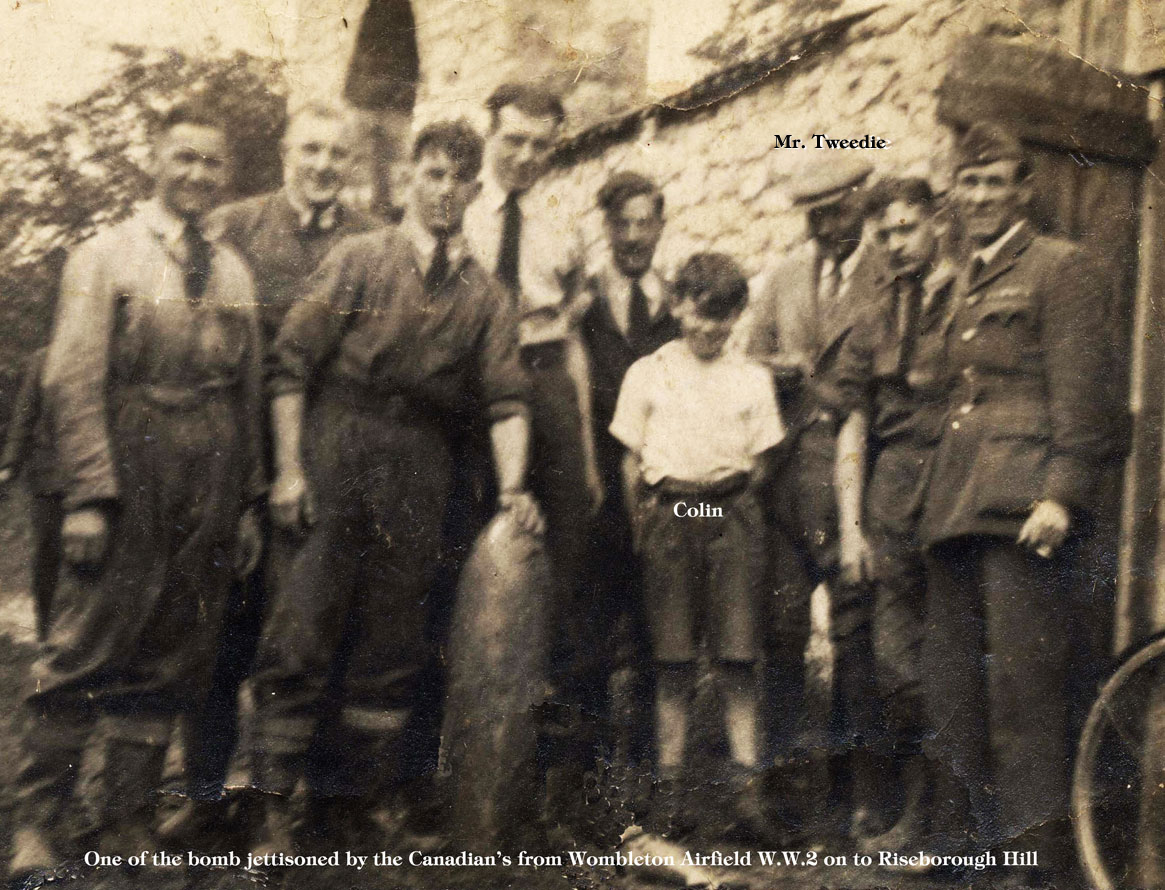 One of the Bombs jettisoned by the Canadian's from Wombleton Airfield on Riseborough Hill
When the farm was busy at haymaking and harvesting time Italian prisoners-of-war came from the nearby camp to work on these tasks. The prisoners were happy and friendly, I think much preferring their situation than to being involved in fighting a war.
Visiting the Website (http://www.normanby.info) I found the article on Riseborough Hall to be of extreme interest and it certainly brought back memories, the removal of the main entrance gates, my sighting of the haunting lady. The log fires, tree trunks standing vertically up the chimney and being taught by Mr. Tweedie how to ride the hunters Wendy and Pepper. I was delighted to read that new owners are to restore the Hall to its former glory.
In 2004 I met Harold and Joan Kennington, the conversation turned to a television programme from the previous evening on evacuation, when Harold commented that he had been evacuated to Hall Farm, Riseborough. I quickly interrupted saying that he had stayed with Mr and Mrs Thompson and their sons Russell and Fred and also evacuated with him was a boy named Geoffrey Pattison. To say that Harold was flabbergasted is putting it rather mildly.
Up to that point it had only been Harold and Colin but he quickly realized who I must be and remembered my surname although I could not recall his surname. We had spent many long summer days playing together either at the Hall or Farm.
Thank you Bernie
Colin Marquis April 2007
Sadly Colin passed away on November 1st 2017 aged 86.