Joseph Smith Life's Events
1823 April 5th, born Wildon Grange, Easingwold (father born at the same address in 1793).
1831, family moved to Bridge Farm Normanby (aged 8 rode pony from Wildon Grange to Normanby).
1834, signed Temperance Pledge at Normanby (aged 11).
1839, elected President of Sunday School at Normanby (aged 16).
1846, father placed Joseph head of Hall Farm at Riseborough (aged 23) a position he held for 30 years.
1846 April 26th, Joseph gave his first Wesleyan sermon at Wrelton.
1848, March 11th, admitted (after rigorous examinations) local Preacher on Pickering circuit.
1848, led Missionary Meeting in Mr Joseph Foord barn at Fadmoor.
1848 June, father hand over Bridge farm to son John and retired to Oulston, Easingwold.
1848 November, father thrown from a gig after horse fell on a visit to Normanby.
1849 January, father died at Oulston, Easingwold (never recovered from the fall)
1849, a devastating outbreak of Cholera hit Normanby and surrounding areas.
1849, Mutual Improvement Society formed at Normanby.
1851, Married Milbah Johnson of Strubby Hall, Louth, Lincolnshire.
1851, Joseph's preached the first "Free Gift" Anniversary at Normanby.
1855 February 21st, formed committee for a fortnightly farmers produce fair at Pickering.
1855, started with others the Ryedale Agricultural Show. (Alternating between Kirbymoorside, Pickering & Helmsley)
1858, became a committee member of Fat Stock Society, York.
1858 August 31st, helped in the design of Normandy's new reaping machine.
1861 March 4th, Brother John handed over Bridge farm to Joseph on his departure to South Africa.
1862, Normanby Chapel underwent considerable restoration work by David Barr.
1862, all services held in granary of Bridge farm.
1864 February 8th, tremendous gale blew two wheat stacks over and toppled most of the trees at Riseborough
1866, caused a sensation by devising a scheme to pay off all the debt £3,000 for the circuits new Chapels that had been built, holding a 3 day Bazaar at Pickering and Kirbymoorside the produce being supplied freely by the farmer and villagers.
1867, elected Vice Chairman of Ryedale Highways Board.
1867 May 18th, helped form Malton Chambers of Commerce.
1869, he presented Malton Council in London on the governments education reform.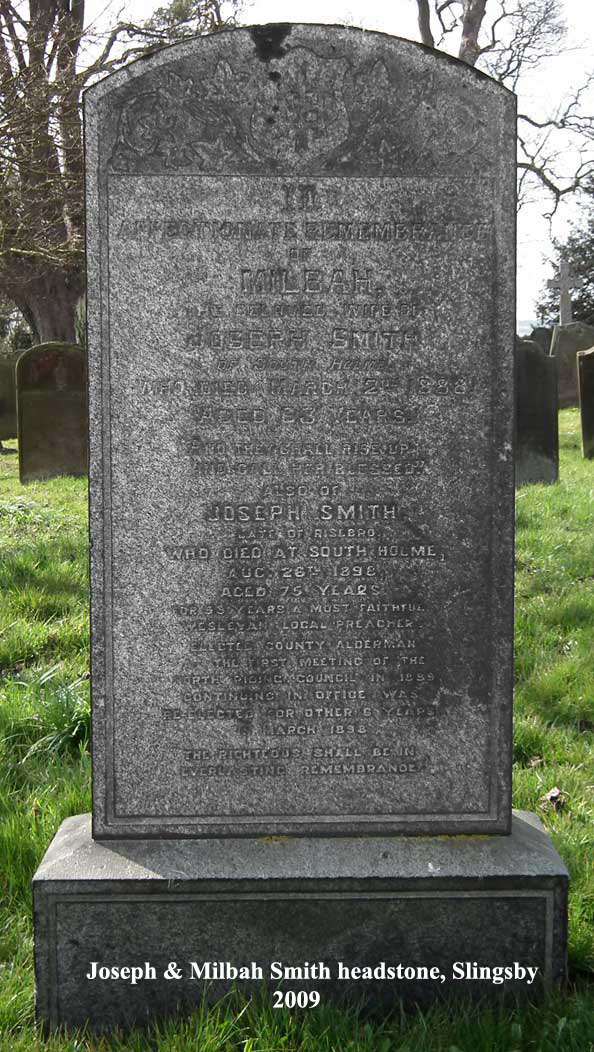 1869, gave up the tenancy of Bridge farm to the Wood family. (Mrs Ann Surr owner died 1868)
1869 October 22nd, son Edward Johnson died buried at Normanby.
1870 February 14th, mother died.
1873 May 22nd, left Riseborough for Huggate the farm being left in the capable hands of Mr & Mrs Thomas Dodds, their faithful servants since arriving at Normanby.
1879 July 7th, laid foundation stone for new Chapel at Normanby.
1888 March 2nd, wife died aged 63
1892 Spring, sale of stock and implements at Huggate.
1892 Spring, moved after farm sale to South Holme.
1896 March 1st, preached at John Harrison's funeral service at Normanby.
1897 June 6th, last Normanby Sunday School Anniversary present every year for nearly 60 years.
1898 May 25th, Colonel William Scoby (Magistrate Yeoman) an old friend of Hob Ground visited.
1898 August 26th, died at South Home and buried at Slingsby on Tuesday 6th September