How Margaret Wood's Ancestors came to Normanby
(Research Bernie 2015)
In November 1868 Normanby P. C. C. listed a legacy of £50 from Ann Surr (1778-1868) of Keldholme towards the rebuilding of Normanby church. Mrs Surr listed in Baines' Directory (1823) as living at Keldholme Priory. The Surr family had connections with Normanby and Kirby Misperton church where two tabletop tombs in the churchyard list three deaths in the 1820s. Mrs Ann Surr, having no close relatives, left farms and land in Normanby to John Wood of Askew and Appleton le Moors, yeoman.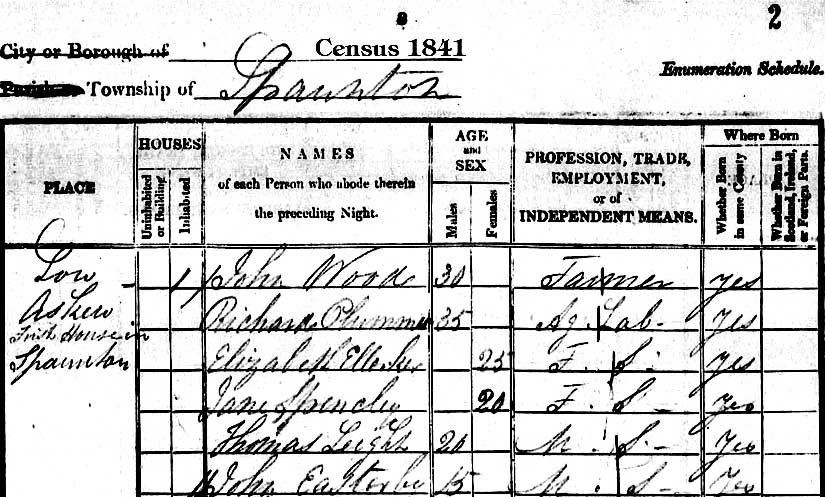 John Wood 1841 Low Askew

John Wood 1851 Low Askew

John Wood 1861 Low Askew
He moved to live in Normanby Township, dying in due course in 1887. Extracts from his will mention "Mrs Ann Surr deceased." John Wood was the great-grandfather of Margaret Wood, born in Normanby and about to celebrate her ninetieth birthday in 2005. We can piece together a narrative with the assistance of her memories, headstones in Normanby churchyard and the 1887 will of John Wood I. (There were to be four John Woods in direct descent).

John Wood 1871 Bridge Farm & Eastfields Normanby
John Wood I (his parent being John Wood of Low Askew Born C.1771 & Ann Nancy Robinson married 1805) and his wife Elizabeth farmed from Eastfields Farm ("the testator's house" in his will). Their son Christopher lived with them until 1887 when, at the age of thirty-nine, he died just two weeks after his father. His brother William and sister Margaret had inherited Bridge Farm (though it is called Sandhill in their father's will). Bridge and Eastfields farms owned 130 acres between them in Normanby parish, most of it lying along both sides of today's Long Lane. In the will this lane is "the highway leading to Low Bottoms". Low Bottoms fields lay to the east of Normanby Manor. William Wood ("late of Bridge Farm") died at The Yews in the village in 1924, and Margaret in 1932. Their brother, John Wood II, never lived in Normanby, preferring to remain in Appleton where he had inherited his father's house and garth and ten acres. However, he sent his son, John Wood III, at the age of twelve to live at Bridge Farm with his uncle and aunt, William and Margaret. This was about 1882.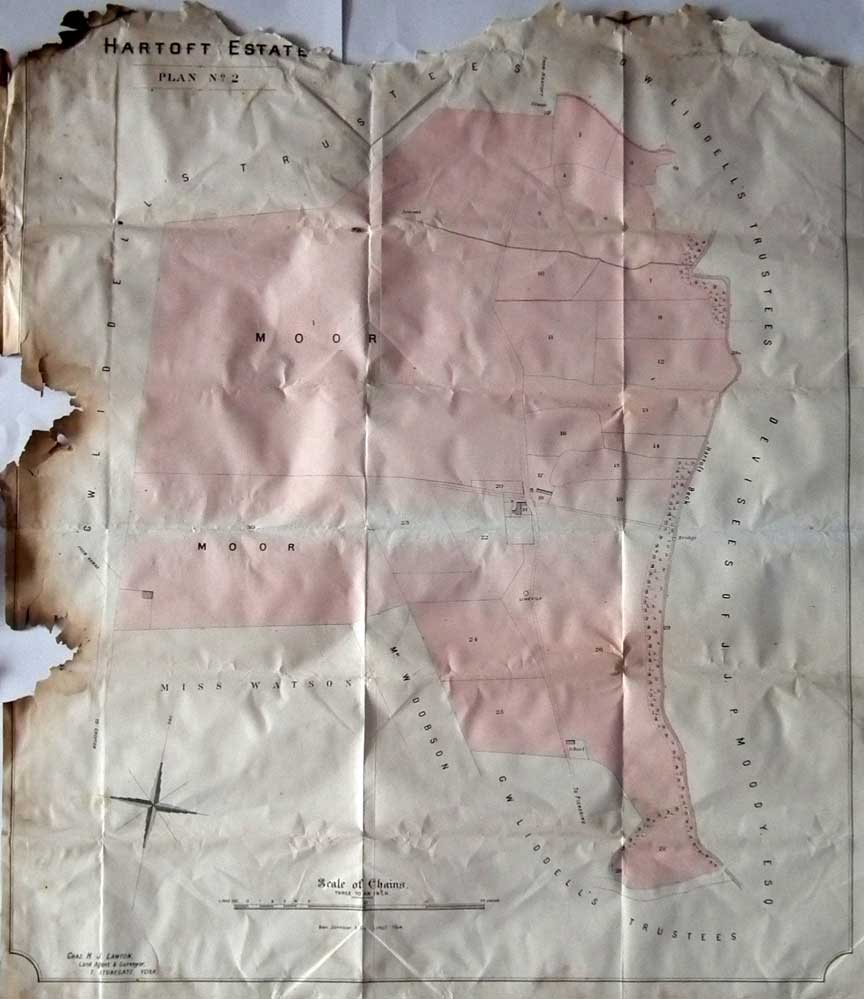 The Wood family's origins are within the Lastingham area. The grandfather of John Wood 1 was known as John Wood of Beckhouse, Beckhouse being the next farm to Low Askew in Spaunton. This John Wood bought Low Askew c.1800 and it past to Robinson Wood and William Wood's finally the Wood's sold it in 1900. At the same time John Wood of Beckhouse (grandfather) apparently also bought three further farms in Cropton.
The four farms were given to his three sons, John Wood (the father of John Wood 1) got Low Askew, Joseph Wood got two farms in Cropton Lane and Thomas Wood got Home Farm in Cropton village this being sold 1984. It had been let to various tenants by the Wood family for nearly 100 years.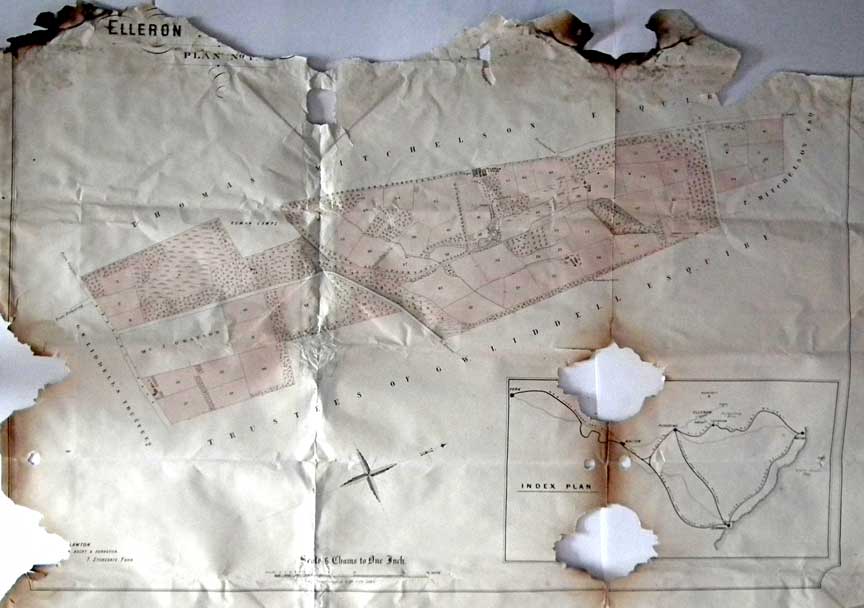 Estate plans of Elleron and Hartoft from Margaret's collection
(research in progress)

John Wood 1881 Bridge Farm & Eastfields Normanby


William Wood 1891 Bridge Farm Normanby

William Wood 1901 Bridge Farm Normanby

William Wood 1911 Bridge Farm Normanby
From there the lad was sent on to live with his grandparents and his uncle Christopher at Eastfields. His grandmother would not allow him to attend Normanby School because there was a schoolmistress in charge there. He had to walk from Eastfields to Bridge Farm and then over the fields to Marton where a schoolmaster officiated! This schoolboy was to be the father of Margaret living at Willow House. He eventually settled at Willow House and later married Louisa Wilder with whom he had two children, John Wood IV (1913-82) and Margaret (1915-2011).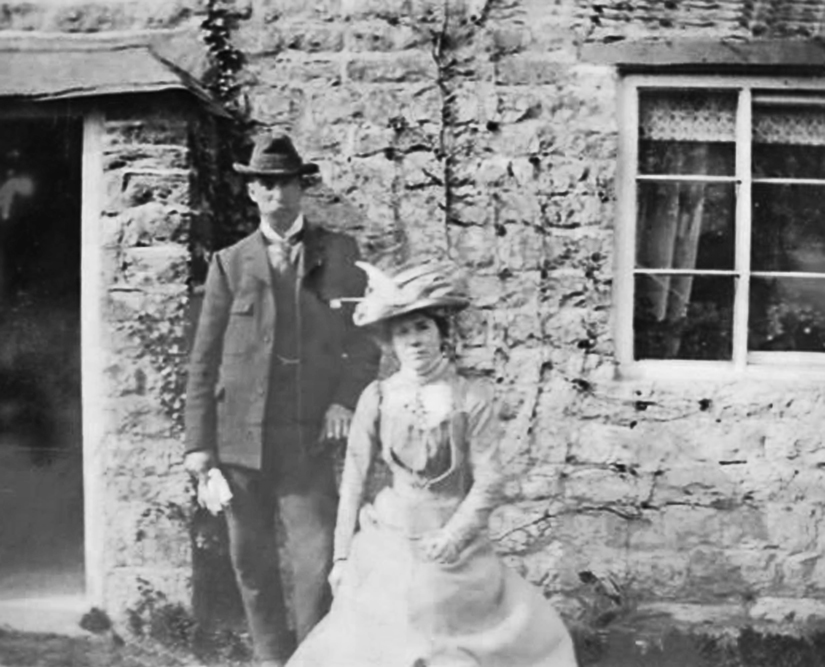 John and Louisa Wood wedding 5th February 1902
Louisa Wood (nee Wilder) (1883-1976)

at Willow House.

Louisa Margaret Wood

(1915-2011)

Louisa Wilder Census 1901 domestic servant Normanby Rectory.

Louisa Wilder now married to John Wood and living at Willow House
The house had been part of John Wood 1's estate, his will describing it as two attached cottages with garden, orchard and a "Pig Garth." There was also a "Fish Pond Close on the west side of the River Seven." Margaret recalls this as a field of between three and four acres close to the river levee. The pond would fill up when floods occurred, and people used to sail on it in the scalding tub used by villagers after butchering their pigs.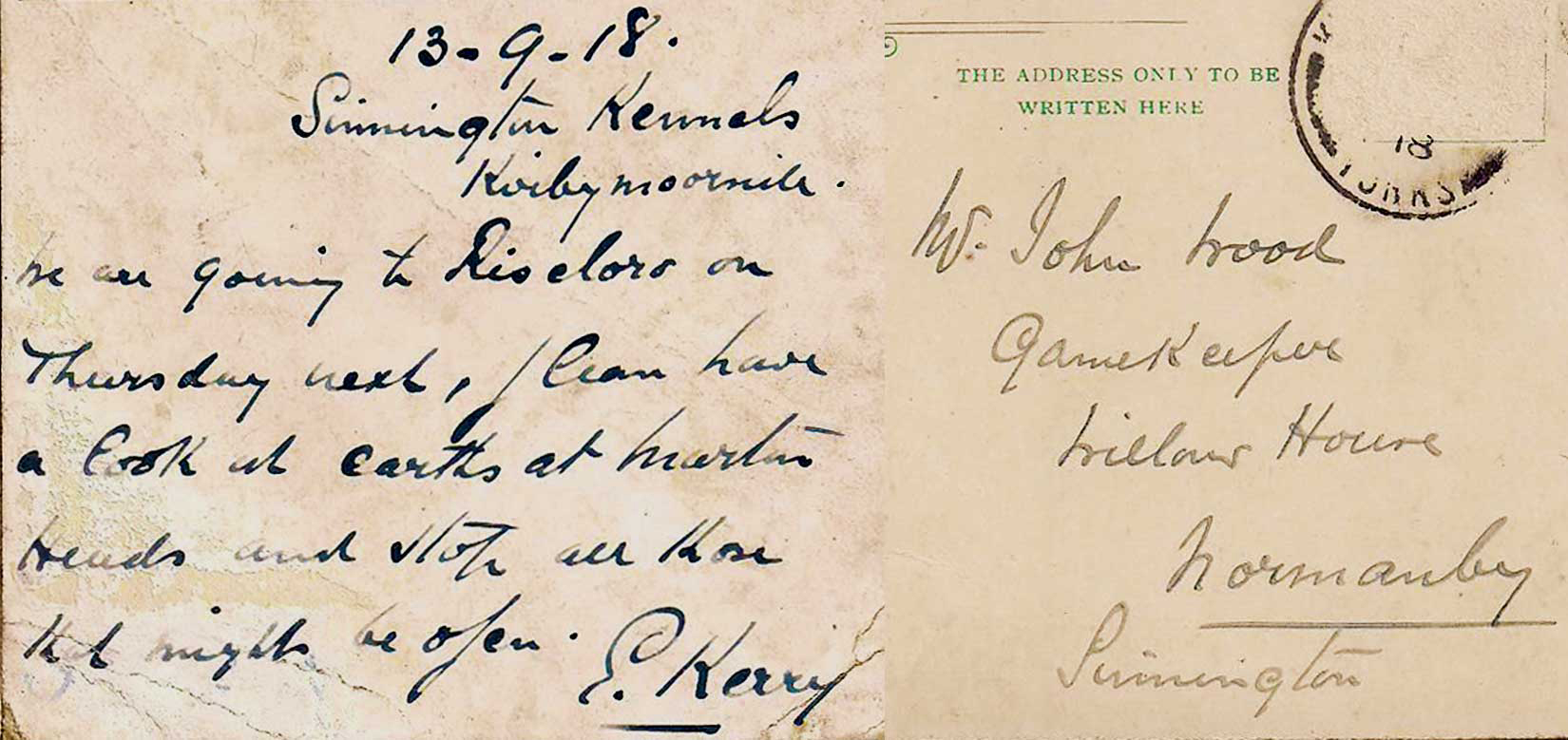 Postcard to John Wood (Margaret's father) from Ernest Charles William Hubert Kerry who was also a fishing tackle dealer, guide and consultant and lived at "Oak Lea" Marton after World War I, moving to Lockton in the 1930's where he died on 25th February 1952 aged 79. Ernest's correct name was Ernst Karl Willhelm Josef Hubert De Ketschendorf born Coburg, Germany on the 3rd May 1873, his father being Freiherr (Baron) de Ketschendorf and his mother Agathe Rekowski. Further research on Ernest Kerry will be added in due course. (Bernie)
| | |
| --- | --- |
| John Wood & Simpson Dodds c.1910 | |
Margaret did say that her father (who died in 1950) had heard when young that the house had earlier been called Town Acre. She reckons that there was an acre of land around the buildings, including "a big willow tree with a hollow in it, in which a cupboard was made to keep a cricket bat or two."
After her brother's death in 1982 Margaret sold various parts of the orchard and Fish Pond Field to builders who called the area "The Warren" on account of the rabbits in residence. Today three properties, Walnut Cottage, Felbridge and High Gables, stand on the land, with sheep pastured on the remainder of Fish Pond Field.