Normanby & Marton Junior Football Team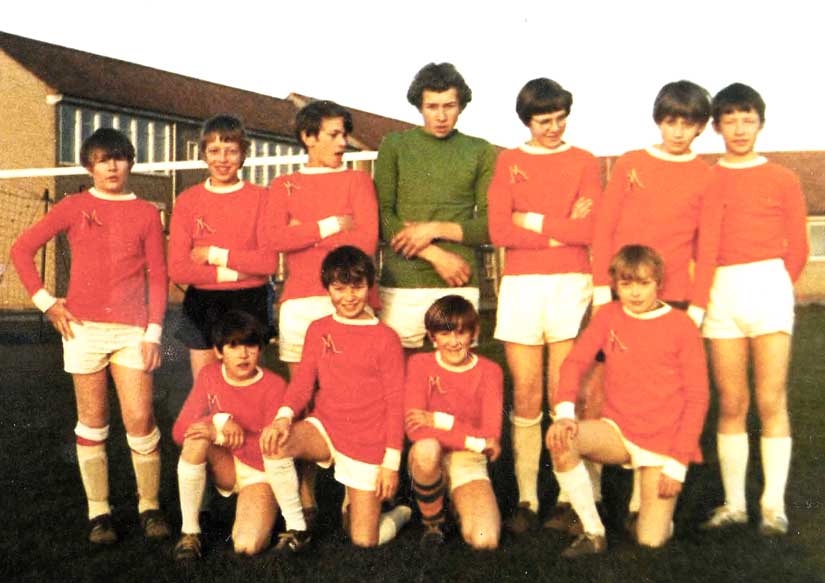 Ryedale Junior football cup final 1971
L to R, back row. Peter Bower, Laurie Thackray, Peter Preston, Andrew Lumley, Stephen Husband, William Atkinson, Christopher Marton.
L to R, front row: Graham Bell, Richard Bell, Rodney Skaife, John Hodgson.
It is little remembered today that the village had a junior football team between the years 1969 and 1974. Called Normanby & Marton Junior Football team, they competed in the Ryedale Junior League and even won it once.
They evolved in 1969 when David Crummack suggested a team of under 13's from the villages of Marton and Normanby as he was managing a similar one in Nawton near Beadlam. The team was originally going to be managed by several Mothers of prospective players in the villages but eventual responsibility was solely assumed by Shirley Marton. Comprising mostly of local families from both villages such as the Bells, Martons, Hodgsons and Turnbulls, they played and lost their first game away at Nawton. They lost their second game at Sinnington football ground. However, thanks to the timely addition of goalkeeper Andrew Lumley and the Atkinson's from Marton - Robin Atkinson, I believe, had trials at Middlesbrough - they won their third game 3-2 at Nunnington. The club was coming together and they soon had a home ground on Bell's fields on the roadside between the 2 villages - on one of the most prominent slopes in the game outside Yeovil.
The Ryedale Junior Football league was formed for the season 1969-70 and Normanby came third from bottom. The winners were Kirkbymoorside. Other competing teams were from Nawton, Nunnington, Ampleforth, Welburn Hall, Kilburn and Sheriff Hutton. However, for their second season, they wisely added several "ringers" from outside the village environs from Pickering who were eager for some weekend soccer action of their own owing to the lack of a team in the town. They also recruited Laurie Thackray from nearby Brawby.
By now, they were playing in their distinctive Tangerine "Blackpool" shirts which Shirley Marton had enhanced with a club insignia - an "N" and an "M" neatly interlocking in homage to both villages. She had run the sewing up one night for wont of nothing better to do on her new automated sewing machine. The club also held fundraising events such as a Barbecue at Reg Marton's - son Simon had played for the club since the early days - and sold special biro pens with a miniature footballer and a message of support for the team on them.
Their ranks swelled with the additions from Pickering, Normanby's second league season was a distinct improvement on the first and they actually won the League Championship in a tight 2-horse race with Kilburn. However, Kilburn got their revenge by beating Normanby in the final of the League's cup 6-1 at Beadlam School playing pitches.
However, for Normanby, and all the other villages, there was a cloud on the horizon. The second season saw the addition of Bright Steels from Malton. With an unlimited supply of physically superior and talented players at their disposal - and at an "age" when height and strength tend to count - they could effortlessly beat the villages with their meagre resources. Normanby and Kilburn held them off for that first season but in the third ever season, Bright Steels swept all before them. Normanby had been weakened by the absence of their star players from previous - who were now overage - and although several "ringers" were recruited via Laurie Thackray from the Malton area, they didn't mesh well with the local players, in spite of being decent footballers. Also, the recent addition of Ryedale Sports Club to the league ensured that Pickering-based under-13 footballers had a club of their own. Normanby finished near the bottom of the league once more but, in the long run, it didn't count as the villages realised that Bright Steel's dominance would destroy any sense of competition and reduce the league to a bigger one-horse race more than the Scottish Premiership.
The 72-73 seasons saw a suspension of the League and the village clubs resorted to playing friendlies. Shirley Marton gradually ceded managing the club to Ray Goodbold of Marton. By now, the club had mostly ceased to recruit outside "ringers" and relied exclusively on local players. The League Cup competition was still being held and Normanby reached the final at Sinnington - only to be soundly slaughtered 12-1 by Ryedale. A junior under-11 side also reached their Cup final only to suffer a similar fate.
After that, the author reached the age limit and lost all contact with the club. I'm not sure how they fared afterwards. Perhaps someone can fill in the missing spaces.
But it had been fun while it lasted.
CHRISTOPHER MARTON
Son of Manager Shirley Marton
Player of Normanby & Marton Junior F. C. - 1969-1973