Occupations
The Domesday book records that Normanby included land enough for four ploughs. During the Middle ages monasteries were largely in control of drainage and cultivation in wetland areas. There was a marshland grange at South Marton, Edstone Priory, Rook Barugh and Normanby amongst 11 in the district. Marshland was reclaimed where higher land could be utilised. There was a corn mill at Sinnington from medieval times.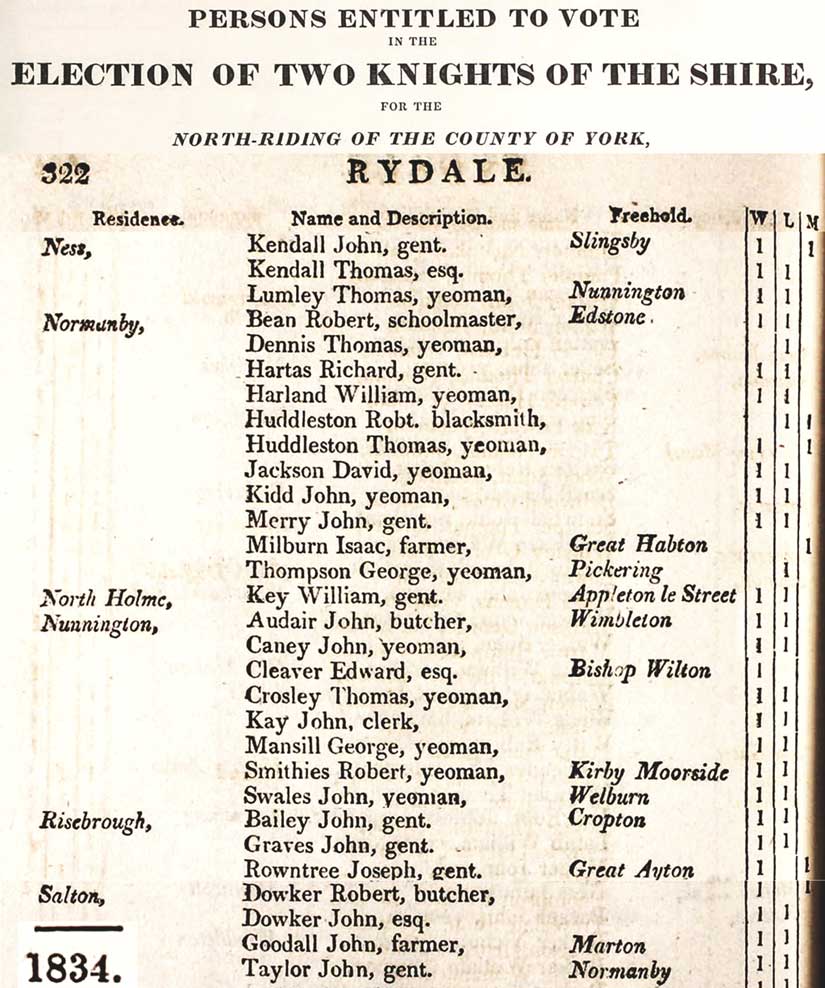 The parish registers and census show how people's occupations have changed over the years.
In the eighteenth century there were Yeoman farmers but also labourers, carpenters, a butcher, servants, Waggoner, blacksmith, husbandman, publican, shopkeeper (James Hill) parish clerk and the curate. Harvest wages in 1794 were ten pence a day for a woman and 2 shillings for a man. By 1798 they had risen to one shilling and threepence for women and 3 shillings for a man.

15 September 1827
In the following century there was a tailor (Thomas Hudson), still a blacksmith (Robert Huddlestone) publican, servants, a miller's servant, a horse breaker (William Wilson), shopkeeper (Ralph and Jane Boyes ).
In the early and mid 20th century there is a roadman, cowman, motor driver, catchment board worker, chauffeur, painter, RAF serviceman, HM forces clerk, engineer, local government officer and quarryman.
Farming has dominated the occupations in the village until very recently.
| | |
| --- | --- |
| . | |
| | |
| --- | --- |
| Massey Harris binder possible at Westfield Farm. | From a Autograph book 2nd June 1953. |
Farming fortunes have risen and fallen with good and bad harvests, economic slumps and booms in War years. In the 18th and 19th century the Vale of Pickering was still mainly grassland, much in need of drainage. Horse breeding was common.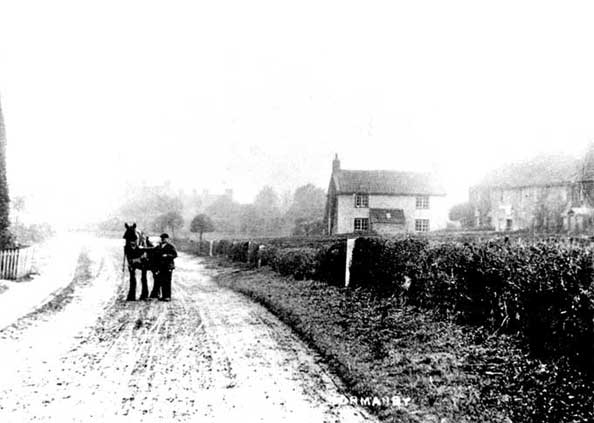 The village carrier can be seen in this early 20th century view looking south.
The last quarter of the 19th century was bad for farm economics. Prices eventually increased but wages remained low. After the First World War depression hit and in the 1920s prices tumbled
In the early part of the twentieth century a farming diary from not far away described the daily routines. The worker rose at dawn and retired at dusk. Sunday was largely a day for recreation when cricket or quoits might be played but otherwise there were few breaks except for a week at Martinmas. He earned 9 shillings a week with a bonus at harvest.
The men looked after the cows, sheep, pigs, horses and livestock, ploughed, drilled, scuffled, harrowed, made hay, reaped, hoed, mowed, stacked, thatched, sheared, felled firewood, grew turnips, hay and potatoes. The women baked, churned, washed and mended.
There was a hiring fair in Pickering in November. Market day was Monday. Horses were used extensively right up to the Second World War when much grassland was ploughed up.
The farming year was:
February

Ploughing

Thrashing

March

Ploughing

Thrashing

Harrowing

Winnowing oats

Collecting thorn

Drilling corn

April

Lambing

Harrowing

Rolling

Drilling

Foaling

Planting potatoes

May

Ploughing

Harrowing

Drilling

June

Sheep shearing

Ploughing

Stooking corn

Scruffling

Hand hoeing turnips

July

Sheep dipping

Ploughing

Rolling

Harrowing

Scruffling

Hay-turning

Cocking

Carting

August

Scruffling

Cutting and carting bracken

Thatching hay cocks

Mowing thistles

Harvesting

September

Cutting oats

Cutting corn

Binding

Staking

Raking

Thrashing

Mending hedges

Potato picking

Thatching stacks

October

Sheep dipping

Carting manure

Ploughing

Sowing wheat

November

Carting slag for road mending

Pulping and chopping turnips

December

Ploughing

Pulling turnips

Pulping animal food

Thrashing

Setting nets for sheep pens
The map refers to the present day farm "The Rise"
the area was called Low Bottoms because of the low lying land.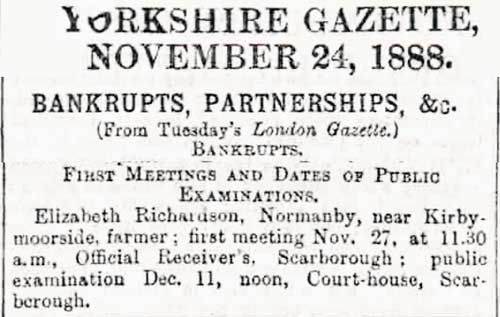 The Parish Register
The parish register of recent years indicates a variety of occupations worlds apart from the village of 1900. They include council clerks, accountant, micro-biologist, lecturer, teacher, surveyor, feed salesman, builder, water board worker, farrier, charity worker, plumber, company director. The range is a testimony to the vastly increased mobility, opportunities, new occupations and educational standards of the present day.