The Road
In the eighteenth century the roads were little better than when the Romans left Britain. The river bridge at the south of the village actually appears to be constructed in two halves. The east side looks older, presumably it was widened on the west.
The Road Bridge
Name carving on bridge coping stones dating from the early 1900's

Comments in a letter from George Rivis 29 August 2006
(In and around 1915 George lived at Westfield farm before moving to Driffield.)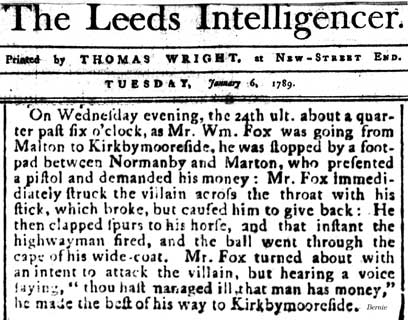 The Leeds Intelligencer January 6th 1789
On Wednesday evening the 24th ult. (December) about a quarter past six o'clock, as Mr. Wm. Fox was going from Malton to Kirkbymoorside, he was stopped by a footpad (robber) between Normanby and Marton, who presented a pistol and demanded his money: Mr. Fox immediately struck the villain across the throat with his stick, which broke, but caused him to give back: He then clapped spurs to his horse, and that instant the highwayman fired, and the ball went through the cape of his wide-coat. Mr. Fox turned about with an intent to attach the villain, but hearing a voice saying, "thou hast managed ill, that man has money," he made the best of his way to Kirkbymoorside.
On researching further I'm of the opinion that the hold-up took place between Wath cottage and Lance Butts cottage perhaps at the Wath, was one watering his horse?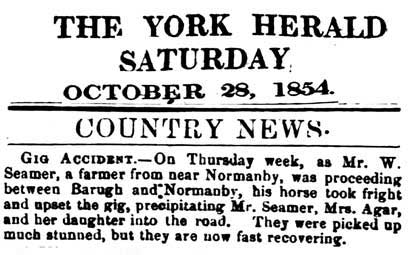 Mr. William Seamer farmed Normanby Hill and was deeply involved in the building of the Wesleyan Chapel if not the lead player. Hence Joseph Smith the much acclaimed Wesleyan Preacher proved the Will.
William Seamer was born Oswaldkirk in 1795 and died Wrelton 1877. At the time of the accident he was aged 59, Mrs Mary Agar aged 42 the wife of Richard Agar gardener of Vine Cottage, and daughter Ann aged 15.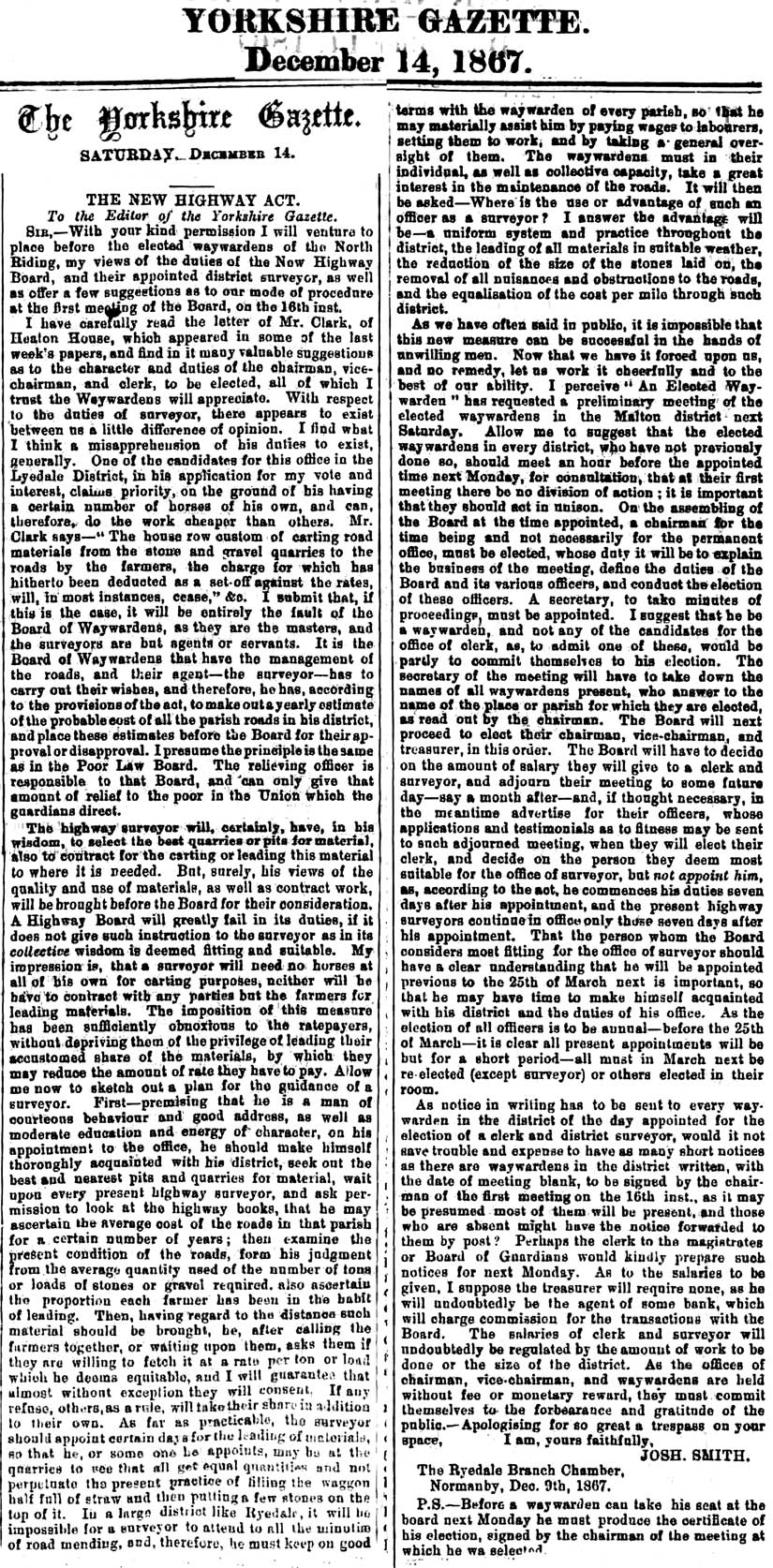 A letter of worth from Joseph Smith (Normanby's Wesleyan Preacher) of Bridge Farm & Riseborough Hall a man of many talents.
The white railings were added in the 1900s after a drunk fell into the river and drowned!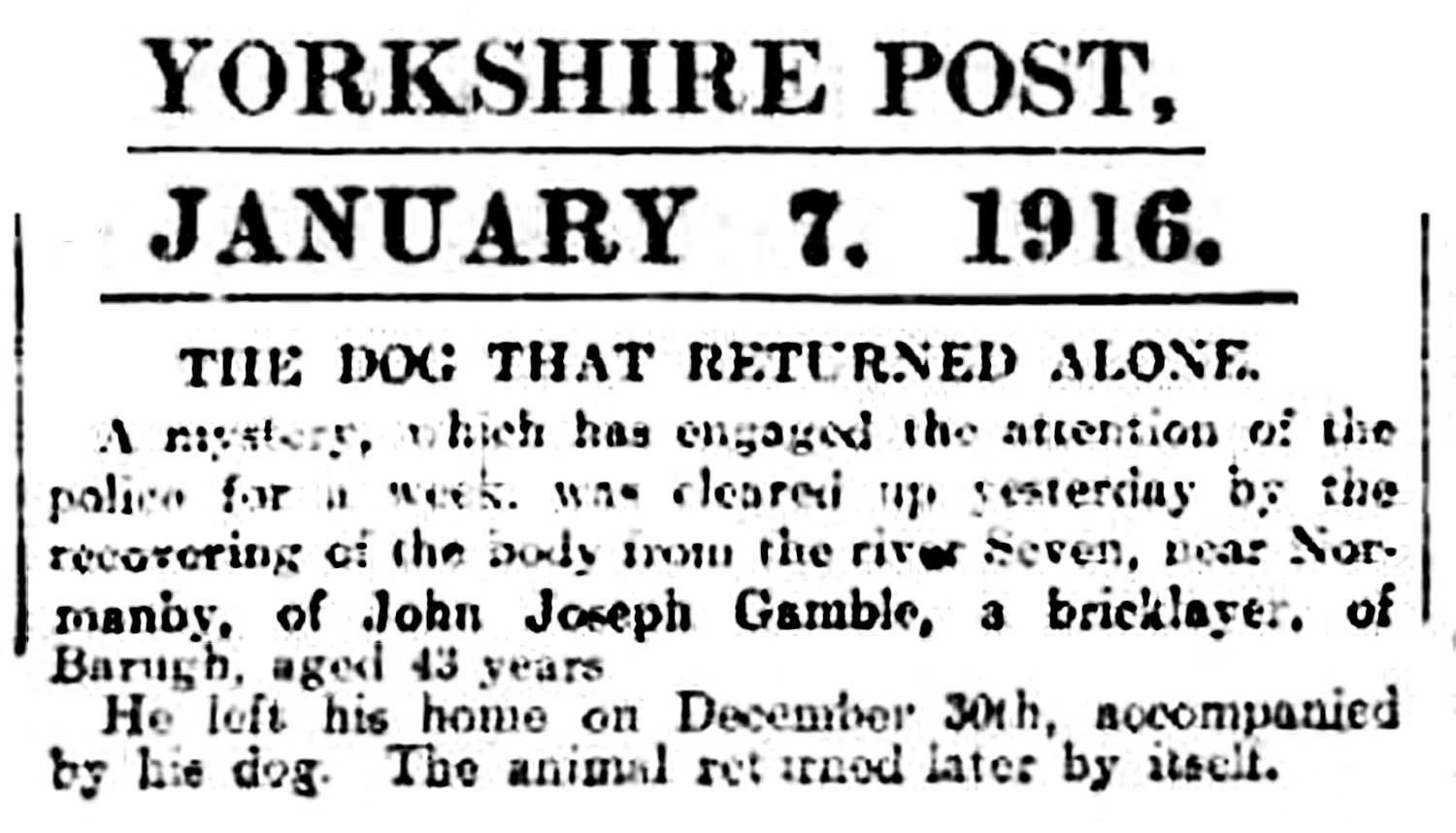 John Gamble was born Salton and married Eliza Foxton of Pickering in 1898
In recent times the road has been straightened (1950ís). The old course is behind Herons Reach. 19th century Parish records have reference to road repairs organised.
In the 1960's General Sir Roy Bucher K.B.E., C.B., M.C., D.L. was the chairman of the "Transport Consultative Committee" for Yorkshire.